SYNCHRO CELEBRATIONS - GOLD FOR SYNCHRO ELEMENTARY TEAM!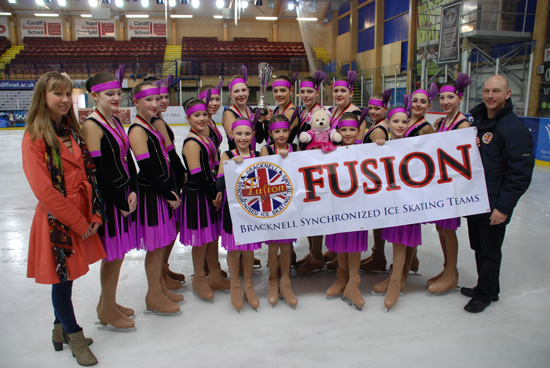 Huge congratulations to our Elementary team who competed in the Wales and the West Synchronised Skating competition in Cardiff today. The result was outstanding with a sizeable increase in their score since Dumfries in March. This is attributable to the dedication, commitment and determination of the team who certainly didn't put a foot wrong today.
This Welsh victory celebrates the end of a most successful 2012-13 season for our Fusion teams resulting in two gold, three silver and one bronze – certainly an amazing year!
Well done girls and coaches!
SYNCHRO CELEBRATIONS IN DUMFRIES!
Congratulations once again to our three synchro teams who celebrated their Scottish Championship and Trophy D'Ecosse success on Friday evening with the customary humongous quantities of cake, including an official 'medal' cake made for the occasion! Many thanks to all parents for the supplies of cake and to Zena Bennetts for the medal cake.
To date it has been a remarkable season for all our teams, particularly our adult team who from their initial formation in October 2009 have won either a gold or silver medal in all of their competitions. They have twice been both the British and Scottish Champions and this season despite injuries, pregnancies, operations, serious illness/conditions along with the departure of old and arrival of new members and returners, the team has maintained its high standards with consistent focus and determination unequalled by its competitors and against the odds returned home with two well deserved silver medals having just missed the British Championship title by 0.03 of a mark! They are extremely pleased with their achievements this year and rightly so.
For our Preliminary team the last three years have represented a huge uphill challenge with repeated set back and disappointment due to illness and injury but the girls have an amazing bond which has helped them through the tough times, inspiring them to persevere and to improve their skating levels. Their much admired camaraderie and hard work paid off when they won their first ever gold medal at Lee Valley last October injecting a great confidence boost into the team and then the same jubilation and emotion was witnessed once again when they secured a silver medal in Scotland scoring their highest mark ever with a truly awesome performance. Every moment of their success was hard earned but so worth it in the end!
Finally our new Elementary team with a programme only finished a few weeks ago and performing at their first ever competition certainly wowed the spectators and clearly the judges to take the bronze medal in their category. Their extreme nervousness and apprehension at competing in such a big event dissipated into tears of joy when they learned they had come third thereby completing a hat trick of medals for team Bracknell. A brilliant result. We wish them every success at their forthcoming Cardiff competition.
It was a spectacular and memorable two days in Scotland for Bracknell Synchronised Skating and thanks go not only to our skaters but to our dedicated Bracknell coaches David Phillips, Christopher Hockaday, and Hannah Hetebrij and the synchro committee and parents who have all worked so hard to support this discipline and facilitated the success of the teams.
Well done everyone!