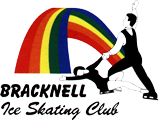 Bracknell Ice Skating Club Email Newsflash - March 2019
Final running order with approximate timings for Tuesday's competition is below. Patch will run until 5:45 with the competition to start promptly at 6pm following a re-surface. Please be ready to skate 15 mins before your allotted warm up group.
Please note below -
PROPS
All props to be free standing and to be placed on the ice in 45 seconds by the skater prior to commencement of skating and to be removed 45 seconds after program finishes.
No fireworks (or similar) are allowed.
JUDGING
Each Judge will award a mark for Interpretation and a second mark for entertainment. In the event of a tie, the entertainment mark will be used as the tiebreaker. THE AYA JAYNE SOLIMAN TROPHY WILL BE AWARDED TO THE BEST OVERALL INDIVIDUAL OR GROUP
We are all looking forward to an exciting and entertaining evening! Have a great skate!!
Running order

Each warm up is 4 mins

time

Individuals

6.00 PM

warm up group 1

Class 1

Level 1 and 2

Ivy

Narbrough

Josie

Bate

Xander

Good

Elizabeth

Wiltshir

Class 2

Level 4 and 5 - adults

Amy

Barnes

Seren

Tudor

Jessica

Morton

6:30 PM

warm up group 2

Class 3

Ice Dancers - Level 3 and Above

Mya

Hughes

Krista

Good

Laurel

Taylor

Class 4

Level 4 to 8

Emmie

Hyland

Lulu

Abiri

Max

Hall

Groups

7:00 PM

warm up group 3

Class 5

Pre-novice groups

Hayley Turton, Samantha Blackmore, Becky Pope

Scarlett Hopkins, Ivy Narbrough

Aaliyah Humphries, Scarlet Rimmington

Class 6

Novice Group

Jessica Mackie, Vivienne Alija

Haruka Okazaki, Alisa Okazaki

----------------------------------------------------------------------------------------------------------
This Newsflash email was sent by Bracknell Ice Skating Club. It is a non-reply distribution list.
You are receiving this Newsflash email because you are a subscribed member of the club.
If you do not wish to receive these emails please send an email to: info@bracknell-ice-skating-club.co.uk