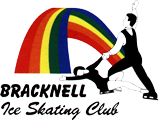 Bracknell Ice Skating Club Email Newsflash - March 2018
Dear Members
Many congratulations to the BISC members shown below who passed tests held at Bracknell on 8th March 2018.
Further congratulations also to Jay Panesar and Emily Philips who achieved competitive test scores for PDS09 at a competition in Belarus and then FDS09 at the British in Sheffield.
And finally, once again well done to Sophie Dracus, who finished 3rd out of 17 in the Springs K (equivalent to Level 3 Ladies) in the Flyver Cup in Copenhagen in February.
If any member has passed a test at another rink or achieved a competetive test score please let me know so that details can be added to a future Newsflash.
Please note that the next dates for tests are 23rd March and 6th April. Skaters booked into the test on 23rd March will already have been contacted by the Bracknell Test Organiser. Details for the 6th April test are currently being finalised and will be sent out in due course.
| | | |
| --- | --- | --- |
| Scarlett | Hopkins | FMG01 |
| Daniella | Whittaker | FMG02 |
| Rebecca | Pope | FMG02 |
| Tallulah | Wray | FMG03 |
| Charlotte | Hodgkinson | FMG03 |
| Catherine | Cantle | FMG03 |
| Vivienne | Alija | FMG04 |
| Ava-Mae | Martell | FMG05 |
| Ava-Mae | Martell | FMG06 |
| Emily | Sheen | FMG07 |
| Charlotte | Cornwall | FMG07 |
| Rebecca | Pope | PDS02 |
| Lexi | Keegan | PDS02 |
| Mya | Hughes | PDS02 |
| Lexi | Keegan | FDS01 |
| Lexi | Keegan | FDS02 |
| Aysha | Perry | FDS03 |
| Aysha | Perry | FDS04 |
| Lucy | Canniffe | FDS05 |
| Chloe | Randall - Hinton | FDS10 |
| Scarlett | Hopkins | ELS01 |
| Mya | Hughes | ELS02 |
| Daniella | Whittaker | ELS02 |
| Vivienne | Alija | ELS03 |
| Catherine | Cantle | ELS03 |
| Scarlett | Hopkins | FRS01 |
| Ella | Axton | FRS01 |
| Mya | Hughes | FRS02 |
| Vivienne | Alija | FRS03 |
| Catherine | Cantle | FRS03 |
Kind regards

Derek Smith

BISC Secretary


----------------------------------------------------------------------------------------------------------
This Newsflash email was sent by Bracknell Ice Skating Club. It is a non-reply distribution list.
You are receiving this Newsflash email because you are a subscribed member of the club.
If you do not wish to receive these emails please send an email to: info@bracknell-ice-skating-club.co.uk